5 Major Benefits of Ion Assisted Deposition
Discover Ion Beam Sputtering Deposition performance at a lower cost of ownership and higher ROI.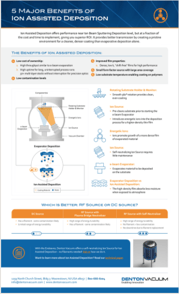 Ion Assisted Deposition produces denser films with less scatter than evaporative deposition only, but without the cost and low throughput of Ion Beam Deposition.
Download the infographic to learn:
The top 5 benefits of Ion Assisted Deposition
Why you should be thinking about using a self-neutralizing RF source
Want more info? Check out our technical paper.