Configuring Your Software for High-Volume Manufacturing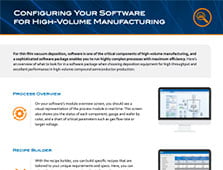 To achieve manufacturing at scale, you need reliable hardware and tools that are designed to deliver precision and performance. And in order to configure a system that can handle complex processes and a very high throughput, you will need a software package that is designed with the same goals in mind.
Our step-by-step infographic will show you:
Why it's imperative to ensure that your software efficiently carries out all process steps, while hitting tight thin film performance specs
How features like a recipe builder and automated scheduler help enable automation and execute even the most complex processes without breaking vacuum
The benefits of a simplified operator mode, on-tool charting capabilities and remote diagnostics and support
Fill in the form to download the infographic.