Considerations for Thin Film Deposition in Compound Semiconductor Manufacturing
During our webinar, Denton Vacuum's Dr. David Douglass discussed recent survey results, giving insights into revenue growth and capex budgets for the compound semiconductor industry. He explained how process and equipment engineers in the compound semiconductor industry can optimize their production process with thin film deposition techniques, in-situ controls and front-end options.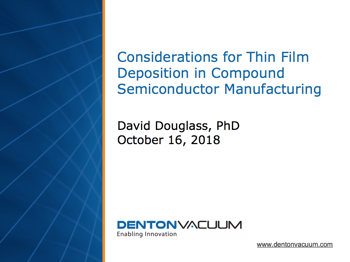 Complete the form on the right to download the presentation slides.